McGill University's Green Rooftop Collaboration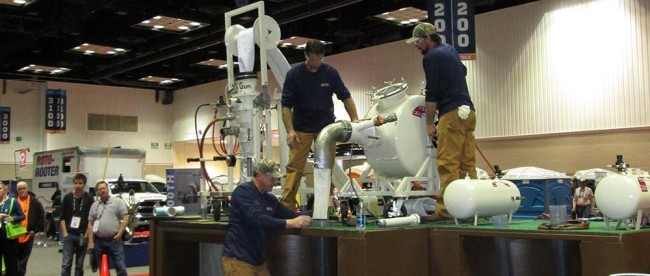 McGill University is quickly developing a reputation for green excellence that spans world-wide, it is considered one of the world's greatest universities.The teachers and researchers of McGill University are taking their research culture a quantum leap further with the opening of a multimillion-dollar Life Sciences Complex. This landmark facility, the largest construction project in McGill's history, will encourage even greater interdisciplinary research by bringing some of the world's key scientific talent under one roof and strengthening Montreal's position as a leading hub of biomedical research in Canada and beyond.
The Life Sciences Complex is also going green with its sustainable rooftop. Other buildings on campus are also following the same agenda. Instead of traditional roof coverings, such as shingles or tar and gravel, a large section of the green roof is divided into raised beds containing plants. These plants are either self-seeding annuals or perennials. In each bed on the LSC (Life Sciences Complex), the plants form a letter, spelling out "VIE" (Life) when viewed from above. Green rooftops help to absorb rain and melt water so that less water is running off the roof, entering the sewer system, and needing to be treated at the city's wastewater treatment station. Green rooftops also absorb less heat than a traditional roof, reducing the amount of energy needed to cool a building throughout the summer.
Montreal, have you made your plans yet to attend the world's largest trade show- WWETT?  Perma-liner Industries is ready and we want to see you there!! Here is a schedule of our live demos:
Convention Center
100 South Capitol Ave.
Indianapolis, IN 46225 U.S.A
BOOTH # 3223
Thursday, February 18th
10:00 am: Reinstatement Cutters
10:30 am: Perma-Lateral™ Lining
11:00 am: InnerSeal™ Connection Seal
1:00 pm:   Sectional Point Repair
1:30 pm:   Perma-Main™ Top Gun
2:00 pm:   Perma-Lateral™ Lining
2:30 pm:   Pull-In-Place
FRIDAY, FEBRUARY 19TH
10:00 am:  Reinstatement Cutters
10:30 am:   Perma-Lateral™ Lining
11:00 am:   InnerSeal™ Connection Seal
1:00 pm:     Sectional Point Repair
1:30 pm:     Perma-Main™ Top Gun
2:00 pm:     Perma-Lateral™ Lining
2:30 pm:     Pull-In-Place